MARAL OVERSEAS LIMITED
ONE OF INDIA'S LARGEST VERTICALLY INTIGERATED TEXTILE COMPANIES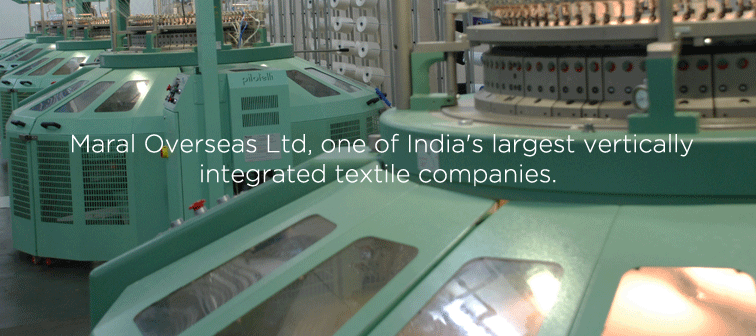 Maral Overseas Limited's plant produces 100% cotton combed yarn across different count ranges
Locational advantages
Fueled by multiple captive power units, the plant (yarn and fabrics) is located in the heart of Central India's cotton-belt.

Trendsetting practices
The Company was one of the first in its sector to implement Fairtrade business practices in India in 2005 and aligned its supply chains with the aforementioned directives. Case in point: the Company launched one of their first collections in collaboration with Marks & Spencers in compliance with the internationally-agreed Fairtrade standards.

Fabrics
The product range includes single jerseys, ribs, interlocks, piques, honeycombs and fleeces as well as plaited and variegated fabrics, among others. These are available in 100%-cotton and various blends as well.
Garments
The Company manufactures garments across various categories like active wear, casual wear, and sleepwear for men and women as well as garments and soft toys for infants and kids.