Shri L.N. Jhunjhunwala
---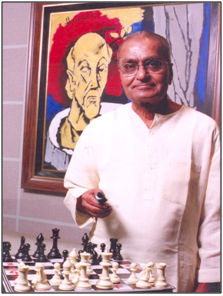 Shri Lakshmi Niwas Jhunjhunwala is among the living doyens of Indian Industry who converted an idea into an empire. Starting more than seven decades ago with a small textiles venture, Shri Jhunjhunwala's legacy now stands tall as LNJ Bhilwara Group, an INR 9,691 Crores plus well-diversified business conglomerate with presence in textiles, power, graphite electrodes, IT, skills and energy storage solutions.
Shri LNJ's parents were small time Jute brokers in Calcutta with very modest means. He entered business in 1947 as an exporter of jute goods from Calcutta and within a short span of time by 1951; he was one of India's top ten exporters of jute goods. After this, he diversified in exports of Iron Ore. As State Trading Corporation was keen to break the cartel of Japanese Steel Mills for purchase of Iron Ore, Shri LNJ established Belgo Indian Mineral Corporation in Antwerp and sold Iron Ore for the first time in Italy. He was appointed as sole selling agent of State Trading Corporation for Western Europe.
Against heavy odds, he established his first plant of 12,000 spindles at Bhilwara in Rajasthan. The Group now controls more than 5, 50,000 Spindles spread over in Rajasthan, Madhya Pradesh, Karnataka, Tamil Nadu and Uttar Pradesh.
A decade of relentless efforts by Shri LNJ resulted in establishment of Graphite Electrodes business. Graphite Electrodes is a high technology product with its technology held by only a hand full of companies in USA, Europe and Japan. After 2 years of persistent efforts, he was able to edge out the Modis, Tatas and Birlas to get an Industrial License and then get a large French conglomerate Pachiney, an $ 8 bn company in mid 70's not only to give technology but also to become a financial partner in India.
The Group has diversified in Hydro Electric Power and has established a record in India by building the first Hydel power of 86 MW in Private Sector in a record period of two and a half years in Himachal Pradesh. Another 192 MW of Hydel Project was commissioned in 2012.
The major group companies which are listed now on the Stock Exchange are RSWM Limited, HEG Limited, Maral Overseas Ltd., BSL Limited and Bhilwara Technical Textiles Ltd. The other unlisted group companies are Bhilwara Energy Limited, Malana Power Company Limited, AD Hydro Power Limited, Indo Canadian Consultancy Services Ltd., BMD Pvt. Ltd., LNJ Skills and Replus Engitech Pvt. Ltd., etc.
Apart from business, he has authored a book in Hindi in 2004 on 'The World Parliament of Religions 1893' which has been highly appreciated for its research work.
Another book 'Panorama – Remembering the Great' was published in 2015 in which he speaks about the great leaders from diverse areas.
He has even encouraged Shri Raghunandan to write the book 'Wisdom of Vashistha' which was released by our ex-President Dr. APJ Abdul Kalam on 18th October, 2004.
Lifetime Achievement Award
Shri L. N. Jhunjhunwala was bestowed with a Lifetime Achievement Awards for the year 2008-09 by the Synthetic & Rayon Textiles Export Promotion Council. The award was given away by Dr. Panabaka Lakshmi, Hon'ble Minister of State for Textiles and it was received by Mr. M. L. Jhunjhunwala, President, RSWM Ltd. on behalf of the Chairman-Emeritus.
The PHD Chamber of Commerce and Industry on the occasion of its "Annual Awards for Excellence 2011" conferred the "LIFETIME ACHIEVEMENT AWARD 2011" to Shri L.N. Jhunjhunwala. On behalf of Shri LNJ, the trophy and citation was received by his son Shri Ravi Jhunjhunwala and was handed over by Smt. Meira Kumar, Honorable Speaker of Lok Sabha in a glittering award ceremony attended by very prominent members of parliament, Industry, media and academia among others.